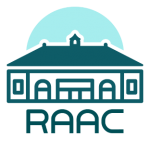 Description
Nancy von Lugossy is a California native who grew up on Long Island, New York.  She has been living in Rockford for the past 14 years.  The mixed-media paintings she is currently creating are an amalgam of her last 52 years of experience.  She started out studying Philosophy, has a degree in Marketing, and studied Environmental Design at Parson's School of Design in New York.  She worked as an Interior Designer in New York until moving to Europe with her husband and daughter in 1991.  Moving to Rockford created the challenge of fulfilling herself creatively and taking care of her 3-year-old daughter.
The painting was something she could do in between school runs and birthday parties.  When her daughter's school lost their art teacher she filled in for a year.  That experience connected her to the Rockford Area Arts Council and the Rockford Art Museum.  The Art Museum eventually invited her to be its Artist-in-Residence for the 2002-2003 school year.  She has sold her work at the Greenwich Village Art Fair, Art on the Lawn, Spring ArtScene, Fall ArtScene, her own gallery, and to numerous private collectors.  A few years ago she took up welding and now with two MIG welders and a plasma cutter in her garage welding studio she's ready to begin another chapter.  To be continued…..
Artist Statement
Art is an organic expression that grows from an artist's soul.  Over the years that expression takes many forms.  Today my work is taking shape with metal, bark, and beeswax.  My schooling was in architecture as sculpture in the environment. Even though these works are small in comparison, to me they are three-dimensional spaces within our collective mind.