Get the Led Out Coming to the Coronado Performing Arts Center Saturday, February 24, 2024 at 8:00PM Tickets On Sale Now!
ROCKFORD, IL (November 15, 2023) – The Led Zeppelin cover band Get The Led Out will bring "A Celebration of the Mighty Zep" back to the Coronado Performing Arts Center stage on Saturday, February 24, 2024 at 8:00PM.
Purchase tickets today at Ticketmaster.com, by calling 815-968-5222, or in-person at the Coronado Performing Arts Center box office (M-F 12PM-4PM) or the BMO Center box office (M-F 10AM-5PM). From the bombastic and epic, to the folky and mystical, Get The Led Out (GTLO) have captured the essence of the recorded music of Led Zeppelin and brought it to the concert stage. The Philadelphia-based group consists of six veteran musicians intent on delivering Led Zeppelin live, like you've never heard before. Utilizing the multi-instrumentalists at their disposal, GTLO re-create the songs in all their depth and glory with the studio overdubs that Zeppelin themselves never performed. When you hear three guitars on the album, GTLO delivers three guitarists on stage. No wigs or fake English accents, GTLO brings what the audience wants – a high energy Zeppelin concert with an honest, heart-thumping intensity. Dubbed by the media as "The American Led Zeppelin," Get The Led Out offers a strong focus on the early years. They also touch on the deeper cuts that were seldom, if ever heard in concert. GTLO also include a special "acoustic set" with Zep favorites such as "Tangerine" and "Hey Hey What Can I Do." GTLO has amassed a strong national touring history, having performed at major club and PAC venues across the country. GTLO's approach to their performance of this hallowed catalog is not unlike a classical performance. "Led Zeppelin are sort of the classical composers of the rock era," says lead vocalist Paul Sinclair. "I believe 100 years from now they will be looked at as the Bach or Beethoven of our time. As cliché as it sounds, their music is timeless."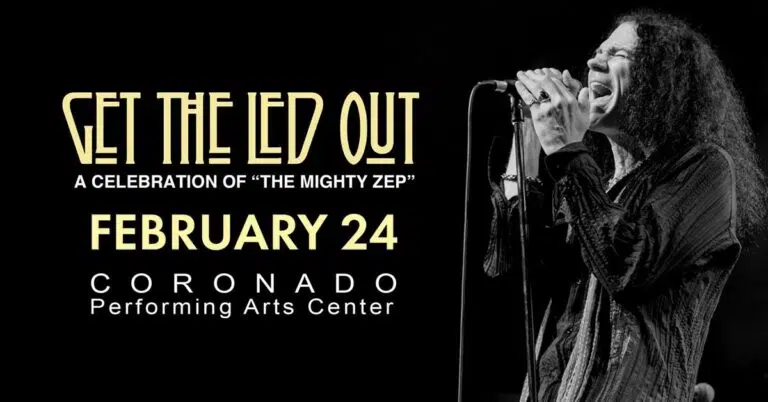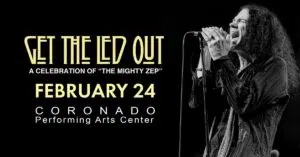 A GTLO concert mimics the "light and shade" that are the embodiment of "The Mighty Zep." Whether it's the passion and fury with which they deliver the blues-soaked, groove-driven rock anthems, it's their attention to detail and nuance that makes a Get The Led Out performance a truly awe-inspiring event! ###
ABOUT THE CORONADO PERFORMING ARTS CENTER:
The Coronado Performing Arts Center is a historic landmark and event venue in downtown Rockford, Illinois, the largest city in Illinois outside of the Chicago metropolitan area. First opened in 1927, and restored and expanded in 2001, the "atmospheric-style" theater seats 2,309 and is host to various musical and performance groups, concert tours and traveling shows each year. It is owned by the City of Rockford, overseen by the Rockford Area Venues and Entertainment Authority, and managed by ASM Global. For more information, visit coronadopac.org.
ABOUT VENUE PARKING:
Parking fees are determined by the city of Rockford in conjunction with ABM Parking & Transportation Services. There is a parking garage directly across from the Coronado Performing Arts Center, surface lots within walking distance, and limited free street parking on a first-come first-serve basis. Although pre-pay parking does not guarantee a reserved spot, patrons have a three-hour window before a show to arrive early and claim their spot. Click here to pre-pay for parking and for additional details.
ABOUT ASM GLOBAL: ASM Global is the world's leading producer of entertainment experiences. It is the global leader in venue and event strategy and management—delivering locally tailored solutions and cutting-edge technologies to achieve maximum results for venue owners. The company's elite venue network spans five continents, with a portfolio of more than 325 of the world's most prestigious arenas, stadiums, convention, and exhibition centers, and performing arts venues. Follow us on Facebook, Instagram, LinkedIn and Twitter. For more information, please visit asmglobal.com. Other ASM Global managed venues in Rockford, IL include the BMO Center and Davis Park.