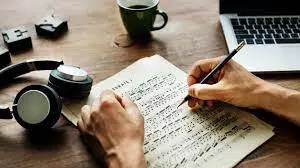 A Songwriter's Workshop
Tuesday, June 27: 6:00pm – 8:00pm
 Nordlof Center – J.R. Sullivan Theater
AGE GROUP:  TEENS, ADULTS
EVENT TYPE:   CULTURE  ARTS
A space for experienced and amateur songwriters/producers alike to collaborate and grow together.
Do you write songs? Do you want to write songs? Come and join the conversation with other local songwriters as we deepen and expand our understanding of what makes a good song.
A combination of performances, writing sessions and presentations to make the art of songwriting more accessible and more communal hosted by the Rockford Public Library.
For more information, suggestions and feedback please contact the Nordlof Theater Manager:
Logan Welliver
Office: 815-987-6641
Email: lwelliver@rockfordpubliclibrary.org