"An Evening with the Late John Cleese"
Comedy Legend John Cleese Brings Laughs & Conversation to Rockford, Illinois
Coronado Performing Arts Center on November 11, 2023 at 7:30PM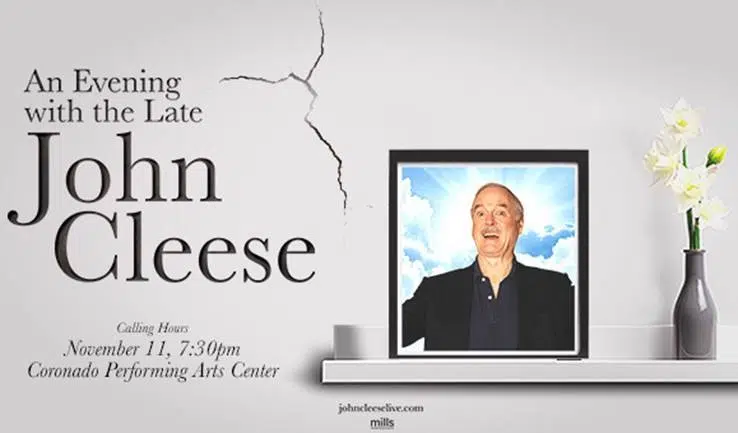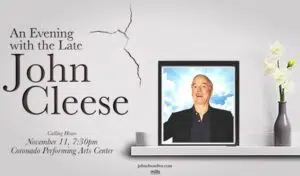 Tickets On Sale July 14 at 10:00AM on Ticketmaster.com
ROCKFORD, IL (July 12, 2023) – (Barely) living comedy legend, JOHN CLEESE, is heading in your general direction for a live and truly memorable evening of comedy and conversation.  The comedy world's icon brings his unparalleled wit and comic genius to Rockford, Illinois for an unforgettable night for "An Evening with the Late John Cleese" at the Coronado Performing Arts Center on November 11, 2023 at 7:30PM.
Local pre-sale begins Thursday, July 13 at 10:00AM – 10:00PM. On sale begins Friday, July 14 at 10:00AM. Tickets will be available for purchase on Ticketmaster.com, in-person at the Coronado Performing Arts Center box office (open M-F 10:00AM – 2:00PM), or by calling 815-968-5222. For show details, visit coronadopac.org/events/john-cleese. Don't miss your chance to secure your seat for an evening filled with laughter, as John Cleese takes you on a comedic journey like no other.
Known for his impeccable timing, trademark eccentricity, and clever wordplay, John Cleese has solidified his position as nothing short of comedy royalty. With all-new routines, shaped by his decades of experience, Cleese showcases his observational humor and gifted storytelling in a way that only he can.
As the co-founder of Monty Python, John Cleese has left an indelible mark on the world of comedy. His work on groundbreaking projects like Monty Python's Flying Circus, Monty Python and the Holy Grail, Life of Brian, Fawlty Towers, A Fish Called Wanda, and his notable roles in the James Bond and Harry Potter franchises have earned him global acclaim and a devoted fan base.
Now, audiences in Rockford have the exclusive opportunity to witness this hilarious and insightful look into the life and work of one of the world's funniest entertainers. "An Evening with the Late John Cleese" promises to be a thrill-of-a-lifetime event that will have you laughing, marveling, and cherishing the moments of pure comedic brilliance.
###
ABOUT THE CORONADO PERFORMING ARTS CENTER:
The Coronado Performing Arts Center is a historic landmark and event venue in downtown Rockford, Illinois, the largest city in Illinois outside of the Chicago metropolitan area. First opened in 1927, and restored and expanded in 2001, the "atmospheric-style" theater seats 2,309 and is host to various musical and performance groups, concert tours and traveling shows each year. It is owned by the City of Rockford, overseen by the Rockford Area Venues and Entertainment Authority, and managed by ASM Global. For more information, visit coronadopac.org.
ABOUT VENUE PARKING:
Parking fees are determined by the city of Rockford in conjunction with ABM Parking & Transportation Services. There is a parking garage directly across from the Coronado Performing Arts Center, surface lots within walking distance, and limited free street parking on a first-come first-serve basis. Although pre-pay parking does not guarantee a reserved spot, patrons have a three-hour window before a show to arrive early and claim their spot. Click here to pre-pay for parking and for additional details.
ABOUT ASM GLOBAL:
ASM Global is the world's leading producer of entertainment experiences. It is the global leader in venue and event strategy and management—delivering locally tailored solutions and cutting-edge technologies to achieve maximum results for venue owners. The company's elite venue network spans five continents, with a portfolio of more than 325 of the world's most prestigious arenas, stadiums, convention, and exhibition centers, and performing arts venues. Follow us on Facebook, Instagram, LinkedIn and Twitter. For more information, please visit asmglobal.com.
Other ASM Global managed venues in Rockford, IL include the BMO Center and Davis Park.