Mania: The ABBA Tribute
Coming to the Coronado Performing Arts Center in Rockford, IL
Saturday, January 20, 2024 at 7:30PM
Ticket Pre-sale Starts Today, October 18, 2023 at 10:00AM – Thursday, October 19, 2023 at 10:00PM
Ticket On Sale Starts On Friday, October 20, 2023 at 10:00AM
ROCKFORD, IL (October 18, 2023) – Take A Chance On MANIA… and you won't be disappointed! This year the iconic Swedish pop group, is celebrating the 50th anniversary of their breakthrough hit single "Waterloo" and MANIA can't wait to share the joy of this huge milestone!
Mania the ABBA Tribute has successfully toured every continent in the world and has played over 3,000 live concerts in over 35 countries. Recent highlights included a second run in London's West End where the show performed for a month in the iconic Shaftesbury Theatre, London in May 2021. The show also enjoyed an 80 date sell-out USA National tour in 2022/2023, Mania continues in its quest to bring the music of the Swedish 'Supergroup' to millions of fans, old and new!
Featuring an extraordinary cast of talented musicians and performers, Mania: The ABBA Tribute delivers an authentic and unforgettable tribute to the legendary Swedish band that has captured the hearts of fans for generations. With stunning costumes, energetic choreography, and impeccable musicianship, Mania: The ABBA Tribute recreates the magic of ABBA's music in all its glory. From "Dancing Queen" to "Waterloo," "Mamma Mia" to "Take a Chance on Me," the band performs all of ABBA's greatest hits with passion and precision, transporting audiences back to the disco era of the 1970s.
The upcoming tour promises to be an unforgettable experience for fans of ABBA and lovers of great music. With stunning visuals, electrifying performances, and all of ABBA's greatest hits, Mania: The ABBA Tribute is a hit with audiences worldwide and Maniacs who return every year!
Pre-sale starts today, October 18, 2023 at 10:00AM – Thursday, October 19, 2023 at 10:00PM. Tickets go on sale on Friday, October 20, 2023 at 10:00AM. Purchase tickets at Ticketmaster.com, by phone at 815-968-5222, or in-person at the Coronado Performing Arts Center box office (M-F, 10:00AM – 5:00PM).
###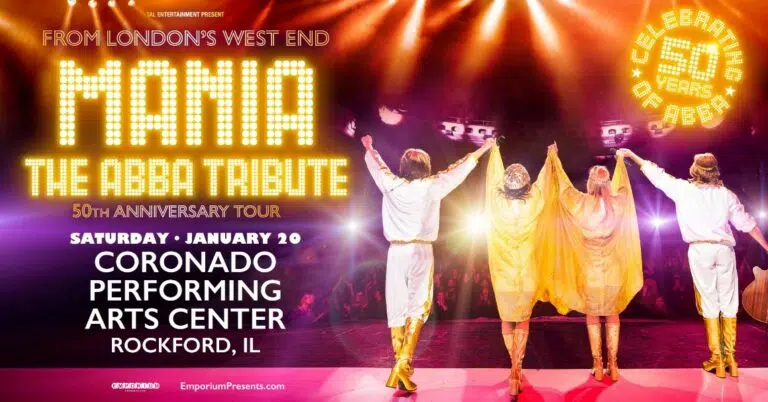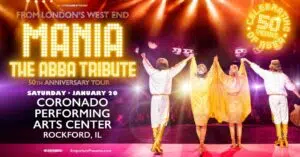 ABOUT THE CORONADO PERFORMING ARTS CENTER:
The Coronado Performing Arts Center is a historic landmark and event venue in downtown Rockford, Illinois, the largest city in Illinois outside of the Chicago metropolitan area. First opened in 1927, and restored and expanded in 2001, the "atmospheric-style" theater seats 2,309 and is host to various musical and performance groups, concert tours and traveling shows each year. It is owned by the City of Rockford, overseen by the Rockford Area Venues and Entertainment Authority, and managed by ASM Global. For more information, visit coronadopac.org.
ABOUT VENUE PARKING:
Parking fees are determined by the city of Rockford in conjunction with ABM Parking & Transportation Services. There is a parking garage directly across from the Coronado Performing Arts Center, surface lots within walking distance, and limited free street parking on a first-come first-serve basis. Although pre-pay parking does not guarantee a reserved spot, patrons have a three-hour window before a show to arrive early and claim their spot. Click here to pre-pay for parking and for additional details.
ABOUT ASM GLOBAL:
ASM Global is the world's leading producer of entertainment experiences. It is the global leader in venue and event strategy and management—delivering locally tailored solutions and cutting-edge technologies to achieve maximum results for venue owners. The company's elite venue network spans five continents, with a portfolio of more than 325 of the world's most prestigious arenas, stadiums, convention, and exhibition centers, and performing arts venues. Follow us on Facebook, Instagram, LinkedIn and Twitter. For more information, please visit asmglobal.com.