Rodney Carrington
Coming to the Coronado Performing Arts Center in Rockford, Illinois
Thursday, November 9, 2023 at 7:00PM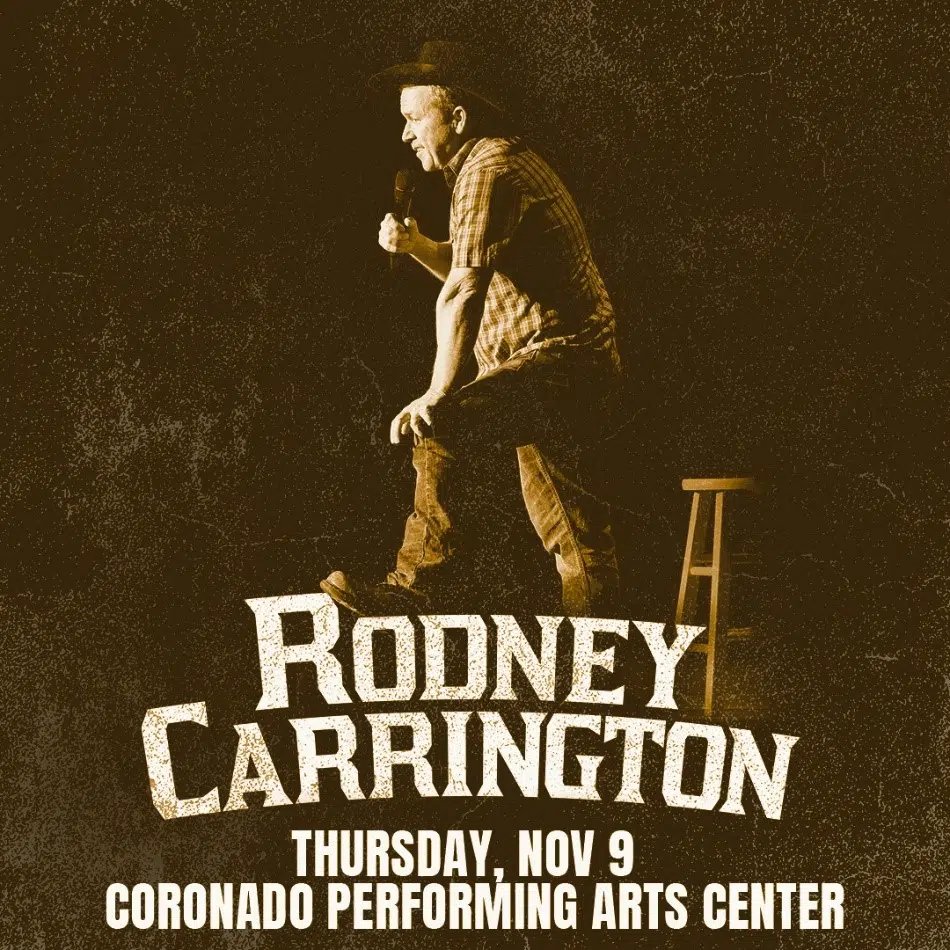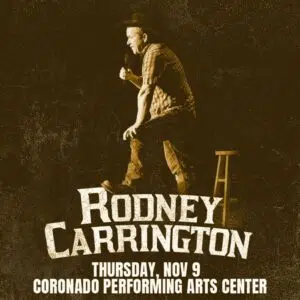 ROCKFORD, IL (July 25, 2023) – Rodney Carrington is a multi-talented comedian, actor, singer and writer playing sold-out shows around the world as one of the top 10 highest-grossing touring comedians for the past two decades. A platinum-recording artist, Rodney's recorded eight major record label comedy albums, followed by three albums on his own record label, Laughter's Good Records. Rodney is fresh off the release of his latest album, "Get Em Out," (released 2019) which hit #1 on iTunes. His album "Here Comes the Truth" (released 2017) climbed to #3 on the comedy charts, accruing tens of millions of streams on Spotify and even spawned a Netflix special.
Enjoy a fun evening at the Coronado Performing Arts Center on Thursday, November 9, 2023 at 7:00PM. Local venue pre-sale starts Thursday, July 27, 2023 at 10:00AM–10:00PM CST. Tickets go on-sale on Friday, July 28, 2023 at 10:00AM CST on Ticketmaster.com, in-person at the Coronado Performing Arts Center box office, or by phone at 815-968-5222.
For details, please visit coronadopac.org/events/rodney-carrington.
Rodney broke through with his major label comedy CD debut "Hangin' With Rodney" in 1998. The next few years saw nine more Top 10 comedy albums: Live, Morning Wood, Nutsack, Greatest Hits, King of the Mountains, El Nino Loco, C'mon Laugh You Bastards, Laughter's Good and The Hits, all of which continue to receive radio airplay and regularly place on the national comedy charts. "Hangin' With Rodney" and "Morning Wood" earned RIAA gold record certification, and his Greatest Hits (a double CD) album reached platinum status. Rodney also released "Make it Christmas" which features his original song "Camouflage and Christmas Lights," a tribute to our military.
Rodney also added "author" to his list of accomplishments with the release of his book "Rodney Carrington, Coming Clean" published by Hatchette Books. Over the years, he's starred in his own TV sitcom, "Rodney", which ran for two seasons on ABC, co-wrote and co-starred with Toby Keith in the feature film, "Beer for My Horses," which won the Tex Ritter Award from the ACM, and starred in his own Netflix special "Here Comes The Truth." Rodney's also appeared on countless other TV shows, including the ACA (American Country Awards), hosting the American Country New Year's Eve Live show on FOX, and won "Supporting Character of the Year" from the CMT Music Video Awards for his appearance on the Trace Adkins' music video "I Got My Game On."
Rodney is fresh off the release of his latest single, "Let Me In," (released October 15, 2021) and is gearing up for a year of touring in 2022! Mature Audiences ONLY!
###
ABOUT THE CORONADO PERFORMING ARTS CENTER:
The Coronado Performing Arts Center is a historic landmark and event venue in downtown Rockford, Illinois, the largest city in Illinois outside of the Chicago metropolitan area. First opened in 1927, and restored and expanded in 2001, the "atmospheric-style" theater seats 2,309 and is host to various musical and performance groups, concert tours and traveling shows each year. It is owned by the City of Rockford, overseen by the Rockford Area Venues and Entertainment Authority, and managed by ASM Global. For more information, visit coronadopac.org.
ABOUT VENUE PARKING:
Parking fees are determined by the city of Rockford in conjunction with ABM Parking & Transportation Services. There is a parking garage directly across from the Coronado Performing Arts Center, surface lots within walking distance, and limited free street parking on a first-come first-serve basis. Although pre-pay parking does not guarantee a reserved spot, patrons have a three-hour window before a show to arrive early and claim their spot. Click here to pre-pay for parking and for additional details.
ABOUT ASM GLOBAL:
ASM Global is the world's leading producer of entertainment experiences. It is the global leader in venue and event strategy and management—delivering locally tailored solutions and cutting-edge technologies to achieve maximum results for venue owners. The company's elite venue network spans five continents, with a portfolio of more than 325 of the world's most prestigious arenas, stadiums, convention, and exhibition centers, and performing arts venues. Follow us on Facebook, Instagram, LinkedIn and Twitter.
For more information, please visit asmglobal.com.