Coronado Performing Arts Center on October 19, 2023 at 7:30PM
Pre-sale begins Tuesday, August 22 at 10:00AM – Thursday, August 24 at 10:00PM
On sale begins Friday, August 25 at 10:00AM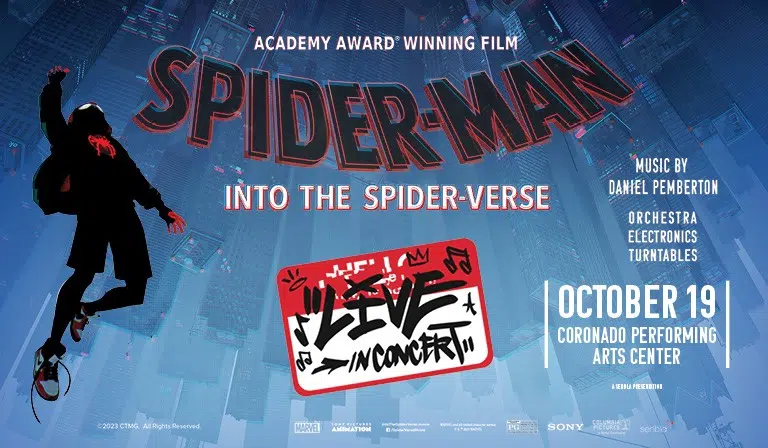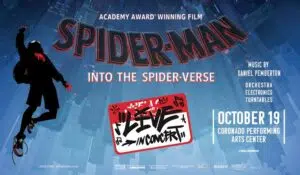 ROCKFORD, IL (August 21, 2023) – An all-new national tour is coming Rockford's Coronado Performing Arts Center on October 19, 2023 which will bring fans a whole new way to experience their favorite box office hit Spider-Man: Into the Spider-Verse. The Academy Award-winning film from Sony Pictures Animation will be accompanied by a live orchestra, band and turntables with a scratch DJ playing music from the score and soundtrack.
Local pre-sale begins Tuesday, August 22 at 10:00AM until Thursday, August 24 at 10:00PM. Tickets go on sale Friday, August 25 at 10:00AM. Purchase tickets online at Ticketmaster.com, by calling 815-489-5222, or in-person at the Coronado Performing Arts Center box office (open M-F from 10:00AM – 2:00PM). For show details, please visit coronadopac.org.
Joining the tour is The Broadway Sinfonietta, an all-women and majority women-of-color orchestra. Emily Marshall will serve as the tour's conductor. The film's music score was composed by Academy Award® nominee, multiple Golden Globe®-nominee and Emmy-winning composer Daniel Pemberton, known for his work on movies such as The Man From U.N.C.L.E., Oceans 8, Enola Holmes, The Bad Guys and Steve Jobs.
"Spider-Man: Into the Spider-Verse is one of my favorite scores I've ever written," said Pemberton. "Utilizing a full orchestra, crazy electronics and unbelievable turntable scratching techniques amongst a million other things is so technically complex, I never thought we'd ever be able to actually reproduce it in a live setting; but somehow, we have. I am ridiculously excited for fans around the country to see their very first Spider-Verse concert later this year."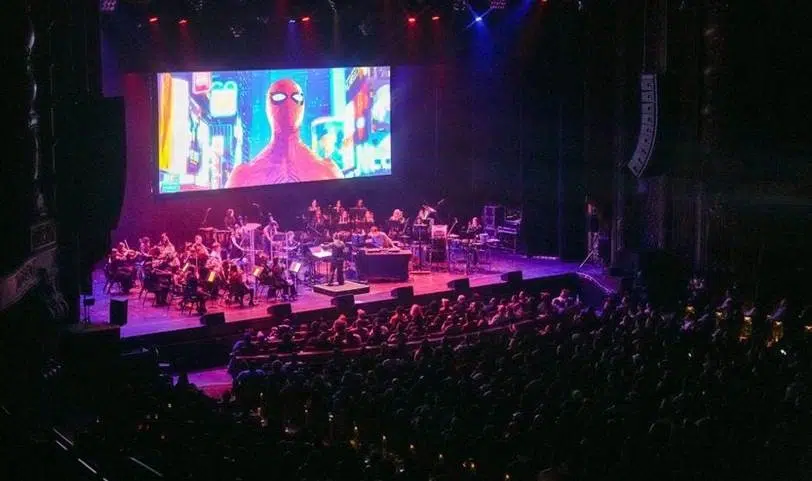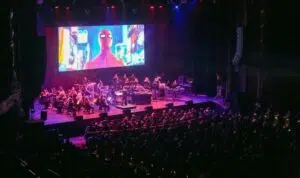 The hip-hop infused film score contains original music showcasing elements of heroism, resilience and is complemented by song contributions from industry greats Post Malone, Lil Wayne, Jaden Smith and Nicki Minaj.
Set in New York City, Spider-Man: Into the Spider-Verse introduces Brooklyn teen, Miles Morales, who after being bitten by a radioactive spider gains Spider-Man like powers. The film was directed by Bob Persichetti, Peter Ramsey, and Rodney Rothman, screenplay by Phil Lord and Rothman with a story by Lord based on the Marvel Comics, and produced by Avi Arad, Amy Pascal, Lord, Christopher Miller, and Christina Steinberg. It features an accomplished and diverse cast including Shameik Moore (Miles Morales), Hailee Steinfeld (Gwen Stacy / Spider-Gwen), Jake Johnson (Peter B. Parker), Chris Pine (Peter Parker), and Mahershala Ali (Aaron Davis / Prowler). The film received widespread praise from critics for its groundbreaking visual style, characters, story, voice acting, and soundtrack. The highly anticipated sequel, Spider-Man: Across the Spider-Verse made its worldwide theatrical debut on May 30 – June 2 in the U.S. –and became a box office sensation, opening to #1 around the globe. Currently playing in theaters, the film has grossed over $390 million at the global box office.
Spider-Man: Into the Spider Verse Live in Concert is produced by London-based promoter and production company, Senbla. For more information about Spider-Man: Into The Spider-Verse Live in Concert please visit www.spiderverseinconcert.com. Follow on social at Facebook: @SpiderVerseMovie, Twitter: @SpiderVerse, Instagram: @SpiderVerseMovie, TikTok: @SpiderVerseMovie.
###
ABOUT THE CORONADO PERFORMING ARTS CENTER:
The Coronado Performing Arts Center is a historic landmark and event venue in downtown Rockford, Illinois, the largest city in Illinois outside of the Chicago metropolitan area. First opened in 1927, and restored and expanded in 2001, the "atmospheric-style" theater seats 2,309 and is host to various musical and performance groups, concert tours and traveling shows each year. It is owned by the City of Rockford, overseen by the Rockford Area Venues and Entertainment Authority, and managed by ASM Global. For more information, visit coronadopac.org.
ABOUT VENUE PARKING:
Parking fees are determined by the city of Rockford in conjunction with ABM Parking & Transportation Services. There is a parking garage directly across from the Coronado Performing Arts Center, surface lots within walking distance, and limited free street parking on a first-come first-serve basis. Although pre-pay parking does not guarantee a reserved spot, patrons have a three-hour window before a show to arrive early and claim their spot. Click here to pre-pay for parking and for additional details.
ABOUT ASM GLOBAL:
ASM Global is the world's leading producer of entertainment experiences. It is the global leader in venue and event strategy and management—delivering locally tailored solutions and cutting-edge technologies to achieve maximum results for venue owners. The company's elite venue network spans five continents, with a portfolio of more than 325 of the world's most prestigious arenas, stadiums, convention, and exhibition centers, and performing arts venues. Follow us on Facebook, Instagram, LinkedIn and Twitter. For more information, please visit asmglobal.com.
Other ASM Global managed venues in Rockford, IL include the BMO Center and Davis Park.