The Hope & Anchor Comedy Night
Saturday, September 16th, 2023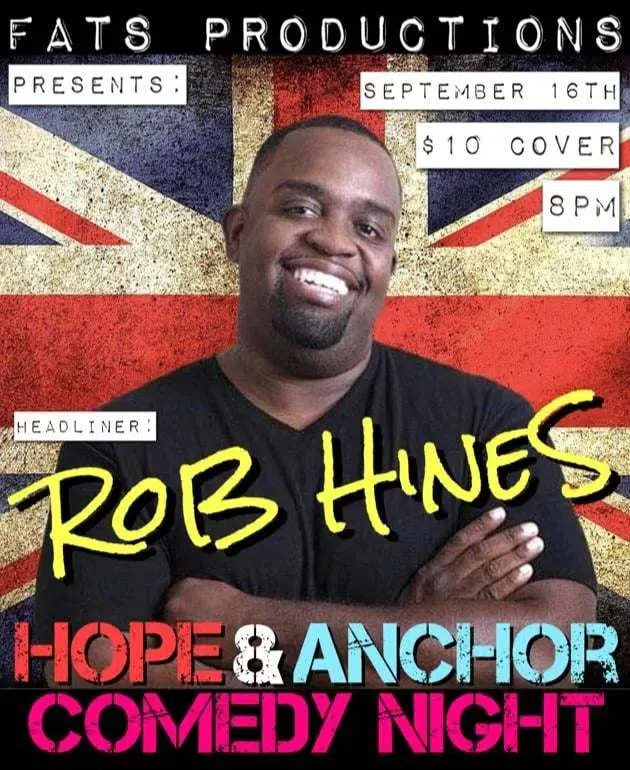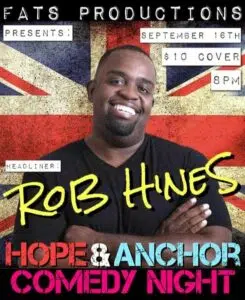 $10 Cover
Show starts at 8pm
Make sure to Call the Hope & Anchor (815-633-2552) during Business Hours to get a Reservation of a Table. The Show Cover will be added to your Table Check for the Night.
Comics for the Night:
Host: Kevin Haas
Main Feature: Jack Baker
Headliner: Robert Hines
Comedian Bio's for the Night:
Host Kevin Haas is a full-time journalist that hails from the great mighty city of Rockford Illinois. When he's not in the News Tower, he's at home thinking of weird stuff to say to strangers. Kevin can be seen in bars and comedy clubs all over the Midwest.
Main Feature Jack Baker is a staple of comedy in and around Chicago. A regular at Zanies and The Improv, Jack has built a reputation for himself as a local heavyweight with his unique blend of intimate stories and subversive observation. Jack can most recently be seen performing alongside such comedic powerhouses as Andy Kindler, Bobcat Goldthwait, and Rick Overton, as well as producing A OK Comedy in St. Charles, IL.
Headliner Robert L. Hines (Rob) is an American comedian and actor best known for his role as 'Toby Jones' from Jones' Good-Ass BBQ and Foot Massage. Rob has been a stand-up comedian for over 30 years performing at comedy clubs across the United States including places such as The Improv, Funny Bone, Zanie's Comedy Club, Laugh Factory and The Comedy Store in New York City, Los Angeles, Chicago, Cleveland and Philadelphia. Rob's found his passion for Comedy during his tenure at the Chicago Vocational High School, where he was provided guidance on turning his comedic class antics into a career path. With this advice, Rob found his first love – Comedy. Sadly, his aspiration of becoming a stand-up comedian had to be placed on hold for 3 years until he was 21 years old. After his first performance was a hit, Rob was taken under the wings of legendary Chicago comedians Bernie Mac, Evan Lionel, Daran Howard and Shay Shay. For 15 years Rob worked across various jobs including being in the U.S. Army Reserves, being an architectural drafts man and being a correctional officer at Chicago's Cook County Jail. Throughout this time, he worked on improving and perfecting his craft and performed at comedy clubs at night. In 2003 Rob became a full-time comedian. His comedic talents led him to star in his first feature film Chasing Robert which featured performances by Andy Dick, Larry Miller, Paul Provenza, Rick Overton and Dan Castellaneta. Following this movie, Rob continued touring and performing at comedy clubs where he was approached by fans of his comedy to portray the character Toby Jones in an internet commercial spoof titled Jones' Big Ass Truck Rental and Storage, Jones' Good ASS BBQ and Foot Massage and Jones' Cheap ASS Prepaid Legal and Daycare Academy. Rob's portrayal of Toby Jones across these three videos became a viral sensation garnering millions of views per video. Today, in addition to touring and club performances, Rob has made several national network appearances on BET, Comedy Central, FOX and even ABC's Good Morning America. Rob has also become one of the hosts of the New OG's Podcast and has an upcoming comedy special titled 'LOCKDOWN' releasing soon. Rob looks forward to sharing his upcoming comedy special about his time working in the jail system and hopes it will help others recognize the value of humanity and our collective experiences while sharing a laugh along the way.