WILLIAM SHATNER
LIVE ON STAGE FOR CONVERSATION AND Q&A
AFTER A SCREENING OF STAR TREK II: THE WRATH OF KHAN

Coming to the Coronado Performing Arts Center in Rockford, Illinois
October 15, 2023 at 7:30PM
Tickets On Sale June 30, 2023 at 10:00AM
ROCKFORD, IL (July 26, 2023) – Set phasers to stun and beam yourself to the Coronado Performing Arts Center on Sunday, October 15, 2023 at 7:30PM for an unforgettable night with the original 'Captain James T. Kirk,' award-winning actor William Shatner, live on stage!
Following a screening of the classic film "Star Trek II: The Wrath of Khan," Shatner, one of Hollywood's most recognizable and beloved figures, will take to the stage to share fascinating and humorous behind-the-scenes stories from his seven decades-long career as an actor, producer, director, writer and – most recently – space-traveler. Fans will also have a chance to ask Mr. Shatner questions during an audience-led Question and Answer session.
A limited number of VIP tickets will be available which include premium seating and a photo opportunity with Mr. Shatner. Local ticket pre-sale begins on Wednesday, June 28 at 10:00AM until Friday, June 26 at 9:59AM. On sale begins on Friday, June 26 at 10:00AM. Tickets will be available for purchase through Ticketmaster.com, by calling 815-968-5222, or in-person at the Coronado Performing Arts Center box office (M-F, 10:00AM to 2:00PM). For more information, please visit coronadopac.org/events/william-shatner.
Don't miss your chance to see a Hollywood legend in this thrill-of-a-lifetime evening. Produced by Mills Entertainment.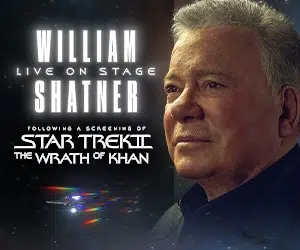 ABOUT WILLIAM SHATNER:
William Shatner has cultivated a career spanning over 60 years as an award-winning actor, director, producer, writer, recording artist, and horseman.  In 1966, Shatner originated the role of "Captain James T. Kirk" in the television series Star Trek, a show that spawned a feature film franchise where Shatner returned as Captain Kirk in seven of the Star Trek movies, one of which he directed. He's won Emmys and a Golden Globe for his portrayal of lawyer "Denny Crane" on both The Practice and Boston Legal.  He received four more Emmy nominations as well as other Golden Globe and SAG Award nods.
His love of music inspired him to record the critically acclaimed album Has Been and his most recent album, Bill. William Shatner's book, Leonard: My Fifty-Year Friendship with a Remarkable Man, appeared on the NY Times Bestseller list, and his newest book, Boldly Go, was released in October 2022. Shatner continues to act, write, produce and direct while still making time to work with charities and further his passion in equestrian sports.  He and his wife, Elizabeth, and three married children live in Los Angeles.
ABOUT MILLS ENTERTAINMENT:
Mills Entertainment, a live entertainment content studio, collaborates with top talent and property holders to create unforgettable live experiences.  With full global distribution and partnerships worldwide, our specialty is taking shows from concept to stage, serving as the complete solution in realizing the vision.  www.millsentertainment.com
###
ABOUT THE CORONADO PERFORMING ARTS CENTER:
The Coronado Performing Arts Center is a historic landmark and event venue in downtown Rockford, Illinois, the largest city in Illinois outside of the Chicago metropolitan area. First opened in 1927, and restored and expanded in 2001, the "atmospheric-style" theater seats 2,309 and is host to various musical and performance groups, concert tours and traveling shows each year. It is owned by the City of Rockford, overseen by the Rockford Area Venues and Entertainment Authority, and managed by ASM Global. For more information, visit coronadopac.org.
ABOUT VENUE PARKING:
Parking fees are determined by the city of Rockford in conjunction with ABM Parking & Transportation Services. There is a parking garage directly across from the BMO Center, surface lots within walking distance, and limited free street parking on a first-come first-serve basis. Although pre-pay parking does not guarantee a reserved spot, patrons have a three-hour window before a show to arrive early and claim their spot. Click here to pre-pay for parking and for additional details.
ABOUT ASM GLOBAL:
ASM Global is the world's leading producer of entertainment experiences. It is the global leader in venue and event strategy and management—delivering locally tailored solutions and cutting-edge technologies to achieve maximum results for venue owners. The company's elite venue network spans five continents, with a portfolio of more than 325 of the world's most prestigious arenas, stadiums, convention, and exhibition centers, and performing arts venues. Follow us on Facebook, Instagram, LinkedIn and Twitter. For more information, please visit asmglobal.com.
Other ASM Global managed venues in Rockford, IL include the BMO Center and Davis Park.