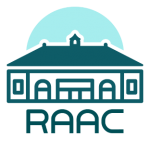 Description
I graduated with a B.F.A. in Printmaking from Northern Illinois University in 2010 and have been a self-employed artist ever since. I've been printing my hand-carved woodblock prints with an old Conrad Dickerson Machine Press – great for saving my hands from having to rub each print with the back of a wooden spoon, but occasionally I will still print by hand.
My studio resides in two locations: the big printing press is out at my in-laws' farmstead in the Shirland, IL area in an old converted cow barn. It now hosts my father-in-law's art studio for his printmaking, paper making, and painting work. The second location is the majority of my basement at home in Rockford, IL. I draw and carve all my woodblocks there and even print my cards there with a small metal hand press.
The original owner of the farm where my printing press is located was from the early 1800s and he was one of the first settlers in the area and a prominent figure in the local community. His name was Lemuel Fisk. The farm is out in the country, away from the busyness of the city. Some of the plants in my prints are inspired by native prairie plants that I've been able to find in the back wild field at the farm. Connecting my business name to the original owner of the farm, with a little feminine flair to it, allows that peacefulness to be communicated through my work. When you hang my prints on your wall or send one of my greeting cards, they will bring a little bit of that natural-space and peaceful feeling to your home and to your correspondences.